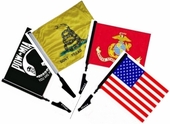 In our Motorcycle section you'll find all our motorcycle gear in one place, making it an easy way for you to shop for great patriotic gear for your bike. Our customers who ride are near and dear to our hearts and we've made an effort to find you great, high-quality products that will help you show your patriotic pride wherever you go.

Our motorcycle section features our selection of Motorcycle flags (you can even order a replacement pole if you need) as well as bandannas, skull caps and head wraps to keep your helmet hair under control. We've also put together a selection of high quality American flag decals and stickers to decorate your bike with as well as our motorcycle license plate frames.

Whether your bike is a Yamaha or a Harley, the latest thing or a rebuilt Indian, our patriotic products will help you show that your pride in your country won't be undone.